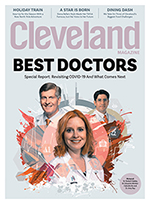 Dr. Scot Miller Awarded Cleveland's "Top Doctor"
Cleveland Magazine Top Doctors Award:
Dr. Scot Miller has the honor of being selected by a vote of his peers to be included in Cleveland Magazine's 2021 list of Top Doctors. The list appeared in the November 2021 issue of Cleveland Magazine.
The research for the Top Doctors list was created by PRS (Professional Research Services) and is based on an online peer-review survey sent out to all certified doctors within the Cleveland area. Thousands of votes were cast honoring excellence in the medical field. Inclusion in Cleveland Magazine's Top Doctors list is based solely upon one's standing within their peer group. In addition, Dr. Miller is the only spine surgeon from the Akron area to have been selected for this top Cleveland honor.